On-line Presentation of the "Strengthening New Entrepreneurship" Scheme – Thursday, 13/5/2021, 15:30 – 16:30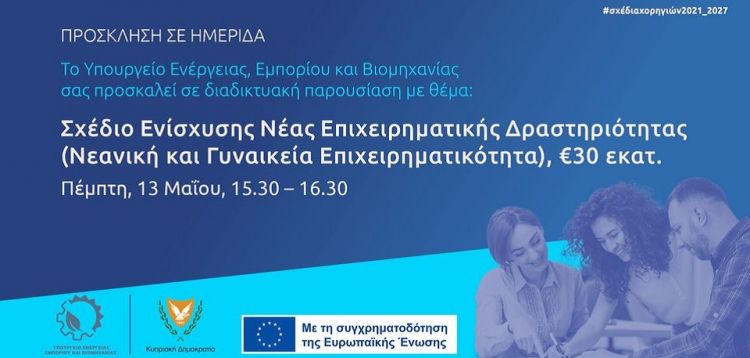 10/05/2021
The Ministry of Energy, Commerce and Industry invites you to attend the on-line presentation of the guide for the new scheme "Strengthening New Entrepreneurship". The event will take place on Thursday 13/5/2021, at 15:30 and you can watch it through the Ministry's YouTube channel.
The new entrepreneurship scheme, which has a budget of €30 million, is the continuation of the previous schemes for strengthening youth and women's entrepreneurship, which have been the most successful and popular schemes of previous years.
In the last 7 years alone, these schemes have helped 608 young individuals – men up to 40 and women up to 55 years of age – to start their own enterprise. This time the scheme has been redesigned to address previously identified points in need of improvement and modernised by taking into account the difficult economic situation caused by the pandemic.
The scheme is aimed at young people; women up to 55 years of age and men up to 50 years of age.